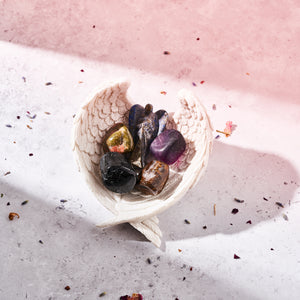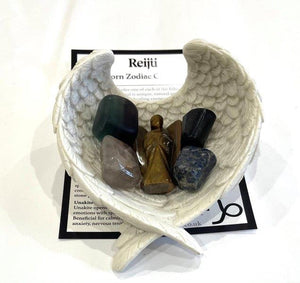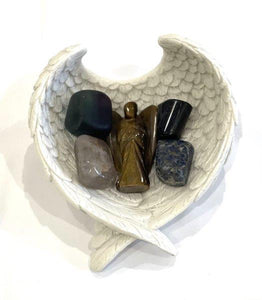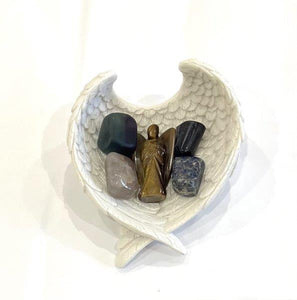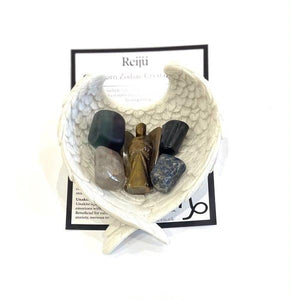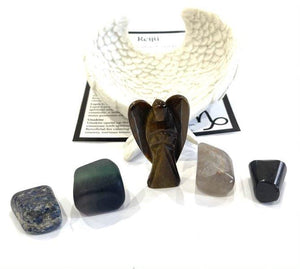 "A perfect gift for that special Capricorn in your life, this natural crystal set comes with a card explaining the meaning of each crystal.
With crystals said to be related to the Capricorn star sign, this set is a must-have for anyone hoping to bring a little bit of extra positive energy into their life. Each stone has been charged with reiki energy to further enhance its natural healing properties.
 The Angel is approx 4-5cm with each tumble varying in size but approx 2 -2.5cm each.
 You will receive one crystal of Each of the following -
Black Tourmaline, Fluorite , Smoky Quartz , Lapis Lazuli, Tigers Eye, Plus a Gorgeous Angel Wings Dish approx 10cm across.
 Please note that these are completely unique and so may differ from the pictures shown.
 Each set will be sent beautifully gift wrapped.
Benefits of the Tiger's Eye Crystal:
 Tigers Eye is a brown-banded quartz that has a very powerful vibration that draws spiritual energies to Earth, and is said to hold the sun's energies inside of it. A fantastic grounding stone, this also helps low self-esteem and blocked creativity. This crystal assists in attaining goals and focusing the mind, building endurance and patience, ultimately enhancing your personal power.
   Benefits of Fluorite:
Fluorite is wonderful at overcoming any form of disorganisation. It draws off negative energies and stress and cleanses and stabilises the aura. Fluorite provides the wisdom that you are safe and protected and that you have everything you need for your soul's progression. Ideal for work or learning, it calms the endless chattering of the consciousness mind, increases concentration, helps absorb new information and blocks computer and electromagnetic stress.
 Benefits of Black Tourmaline:
 Black Tourmaline is the most effective blocker of curses, psychic attack and ill-wishing. It protects against mobile phone emanations, electromagnetic disturbances, radiation and negative energies of all kinds.  Placed around the house or open space, Black Tourmaline offers protection on all levels.
Resonating with the base chakra, black tourmaline grounds energy and increases physical vitality, reducing tension and stress. Clearing negative thoughts, it brings about a laid back attitude, encouraging objectivity and a clear mind.
Black tourmaline gives us a positive attitude no matter what the circumstances.
  Benefits of Smokey Quartz: 
This pale brown to dark grey stone is linked to the base chakra and earth energy, therefore it is very useful for grounding and protection. It symbolises deeper truths and teaches us light when life seems dark. It gives a sense of confidence and emotional security and allows us to expand our mind and try new experiences.
Smokey Quartz is one of the most efficient grounding and cleansing stones. This is a superb antidote to stress, and can alleviate suicidal tendencies. It provides strength and is an excellent healing crystal for radiation related illnesses and chemotherapy/radiotherapy.
  Benefits of Lapis Lazuli:
Lapis Lazuli has a very powerful vibration, and is thought of as a key to spiritual attainment. A powerful thought amplifier, it stimulates higher mental faculties and encourages creativity. A bonding stone in love and friendship, this stone posesses enormous serenity.
   We will send your crystals to you already charged with healing Reiki energy. When you receive this set, to fully benefit from the stones healing properties you will need to hold it in your hands, picture light surrounding it and state your intention for your stone; ie what you want the stone to do for you, for example is it to attract love, to heal a condition or for protection against negative energy etc.
Keep your crystals together in the Angel dish for maximum benefit.
Your crystal will need cleansing from time to time, as crystals absorb energy, both positive and negative. Placing the crystal in the light of the sun or moon for a few hours recharges its 'batteries' and gets it ready to work again.
We will send your crystal to you with the intention that it will do the absolute best it can for you!
  Please be aware that Reiki and Crystal Healing involve a method of energy balancing for the purpose of pain management, stress reduction and relaxation etc. These treatments are not intended as a substitute for medical or psychological care. Crystals are powerful and should be treated with respect. Please also be aware that Reiki Practitioners or Crystal Healing Therapists do not diagnose conditions, nor interfere with the treatment of a licensed medical professional. It is recommended that you seek a licensed healthcare professional for any physical or psychological ailment you may have.
Contact us (Customer Service, Enquiries etc) -
The best way to contact us is via the contact form below; we will endeavour to reply as soon as we can Mon - Fri 9am - 6pm.
Shipping
All deliveries within the UK are Free of charge for orders over £25
and only £2.49 below this!

If you want to check the shipping cost before purchasing from us, just contact us here - contact us

We also offer a 24 tracked option and a next day special delivery service* at extra cost if required.
For European customers Only - We are not currently registered for IOSS so please be aware that there may be a customs charge to pay to get your item.
| | | |
| --- | --- | --- |
|  UK | Shipping Fee | |
| Royal Mail 48 Standard | £2.95 | Free Over £25 |
| Royal Mail 24 Class Tracked | £5.95 | |
| Royal Mail Special Next Working Day Delivery Before 1pm Next Day * | £10.95 | |
*Special Delivery- Order to be placed before 2pm. Orders placed after 2pm on a Friday will be shipped on the Monday - exc bank holidays
| | | |
| --- | --- | --- |
| Europe | Shipping Fee | |
| Royal Airmail Tracked | £15.95 | Free Over £120 |
| | | |
| --- | --- | --- |
| USA & Canada  | Shipping Fee | |
| Royal Airmail Tracked | £24.95 | Free Over £120 |
| | | |
| --- | --- | --- |
| Australia & New Zealand | Shipping Fee | |
| Royal Airmail Tracked | £24.95 | Free Over £120 |
| | | |
| --- | --- | --- |
| Other Worldwide | Shipping Fee | |
| Royal Airmail Tracked | £24.95 | Free Over £120 |
All parcels sent International Tracked Service. Tracking number will be provided.

(Please note that you, as the buyer, are fully responsible for any customs duty taxes that are payable/due in your country. Obviously with the Covid pandemic & brexit, there may be delays with goods getting through some countries customs.)
Returns & Refunds
We here at Reiju like to be fair and open with our customers, so if you are not 100% satisfied with your purchase, you can of course return the product and get a full refund or exchange the product for another one for up to 30 days from the date you purchased it.
Any product you return must be in a re-saleable condition and in the original packaging if possible.
You will be responsible for paying all shipping costs for your item; unless the reason for the return is damaged goods within the 30 day returns period. Photographic evidence will be required in this instance.
Shipping costs are non-refundable. If you receive a refund, the cost of return shipping will be deducted from your refund.
Please contact us before returning an item within the 30 day period.
Please return to us at -
Reiju
Unit 5b
Jubilee Business Park
Appleby Magna
Swadlincote
DE12 7AJ
UK
For any queries, please email us at info@reiju.co.uk
The product has been added to cart.
Crossell