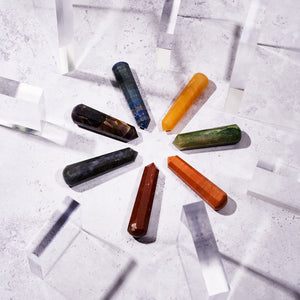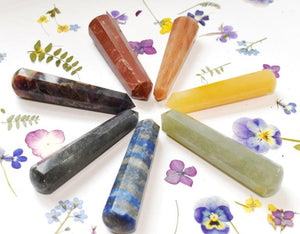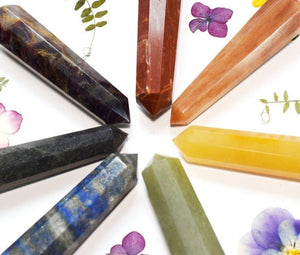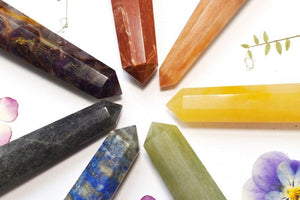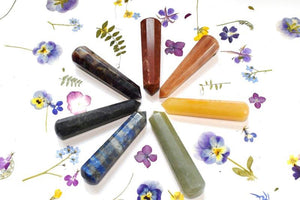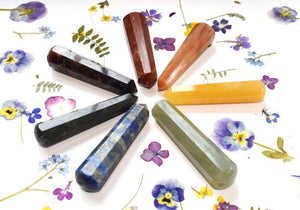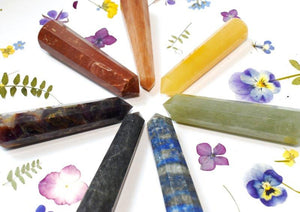 When it comes to energy healing, crystals are like the Swiss army knives of the spiritual world. And these natural crystal faceted wands are the perfect tool for balancing and cleansing the chakras. Made from seven different crystals, each wand is attuned to a different chakra. So whether you're feeling blocked, out of balance, or just need a little boost of energy, there's a wand for that. Plus, they come gift wrapped in a organza bag; making them a great way to say "I love and appreciate you" to your favorite crystal enthusiast.
Your chakras will thank you.

The length of each wand is approx 9cm long x 3cm x 2cm approx.
each set will come boxed along with a description card and chakra leaflet which explains each chakra.

Red Jasper is the supreme nurturer. It's not just some New Age hocus-pocus either - scientists have proven that it contains a wealth of nutrients and minerals that are essential for human development. But that's not all Red Jasper can do; it also helps to encourage spiritual development at a gentle rate. For those who are always on the go, Red Jasper can also help to alleviate stress. Just a few minutes of holding this beautiful stone can help to center and ground you, promoting a sense of calm and peace. So if you're looking for a way to nurture your mind, body, and soul, look no further than Red Jasper.

Orange jade is the perfect stone for anyone who wants to add a little extra joy to their life. It's also a great reminder of the interconnectedness of all beings, which is an important lesson for us all. This stone is energetic and quietly stimulating, making it perfect for those moments when we need a little boost. Whether you're looking for some added happiness in your life or you're trying to remember that we're all in this together, orange jade is the perfect stone for you.

Yellow Jade is a beautiful crystal that has been prized for centuries for its unique color and alleged metaphysical properties. According to legend, yellow jade is thought to be a very lucky crystal that can help to bring joy and happiness. It is also said to be energetic and stimulating, making it an ideal talisman for those who are seeking a little extra luck in their lives. Whether or not you believe in the power of crystals, there is no denying that yellow jade is a stunning gemstone that is definitely worth adding to your collection.

If you're looking for a crystal that will help you tap into your psychic abilities, look no further than green aventurine. This beautiful gemstone is said to stimulate psychic perception and enhance creativity. It is also believed to be a powerful tool for healing, as it is known to promote emotional balance and calmness. If you're feeling overwhelmed or out of sorts, green aventurine may be just what you need to get back on track. Whether you're looking for guidance from your higher self or simply seeking a little peace of mind, this magical crystal is sure to offer some assistance.

Lapis Lazuli is often associated with the Third Eye Chakra, this blue crystal is said to promote psychic ability and spiritual wisdom. Lapis lazuli is also believed to be a bonding stone in love and friendship. Whether you're hoping to connect with your spirit guides or deepen your relationships with loved ones, this beautiful stone is worth adding to your collection.

Blue Aventurine is a powerful stone for psychic development and meditation. It is said to open the Third Eye Chakra, providing clarity and insight into your spiritual journey. If you're looking to deepen your meditation practice or explore your psychic abilities, Blue Aventurine is an excellent choice. This beautiful stone has a calming energy that can help to still the mind and connect you with your higher self. In addition, Blue Aventurine is said to promote communication with the spiritual realm. Whether you're seeking guidance from your spirit guides or looking to connect with loved ones who have passed on, this stone can be a valuable ally. If you're ready to explore the world of spirit, add Blue Aventurine to your toolkit.

Looking to develop your psychic abilities? Then amethyst just might be the crystal for you! Also known as one of the master healers, this violet gem is said to help open up your third eye and expand your consciousness. And who couldn't use a little bit of extra intuition in their lives? Whether you're just getting started on your spiritual journey or you're a seasoned pro, amethyst can help you tap into your higher self and access inner wisdom. So go ahead and add it to your collection - your future self will thank you!
Contact us (Customer Service, Enquiries etc) -
The best way to contact us is via the contact form below; we will endeavour to reply as soon as we can Mon - Fri 9am - 6pm.
Shipping
All deliveries within the UK are Free of charge for orders over £25
and only £2.49 below this!

If you want to check the shipping cost before purchasing from us, just contact us here - contact us

We also offer a 24 tracked option and a next day special delivery service* at extra cost if required.
For European customers Only - We are not currently registered for IOSS so please be aware that there may be a customs charge to pay to get your item.
| | | |
| --- | --- | --- |
|  UK | Shipping Fee | |
| Royal Mail 48 Standard | £2.95 | Free Over £25 |
| Royal Mail 24 Class Tracked | £5.95 | |
| Royal Mail Special Next Working Day Delivery Before 1pm Next Day * | £10.95 | |
*Special Delivery- Order to be placed before 2pm. Orders placed after 2pm on a Friday will be shipped on the Monday - exc bank holidays
| | | |
| --- | --- | --- |
| Europe | Shipping Fee | |
| Royal Airmail Tracked | £15.95 | Free Over £120 |
| | | |
| --- | --- | --- |
| USA & Canada  | Shipping Fee | |
| Royal Airmail Tracked | £24.95 | Free Over £120 |
| | | |
| --- | --- | --- |
| Australia & New Zealand | Shipping Fee | |
| Royal Airmail Tracked | £24.95 | Free Over £120 |
| | | |
| --- | --- | --- |
| Other Worldwide | Shipping Fee | |
| Royal Airmail Tracked | £24.95 | Free Over £120 |
All parcels sent International Tracked Service. Tracking number will be provided.

(Please note that you, as the buyer, are fully responsible for any customs duty taxes that are payable/due in your country. Obviously with the Covid pandemic & brexit, there may be delays with goods getting through some countries customs.)
Returns & Refunds
We here at Reiju like to be fair and open with our customers, so if you are not 100% satisfied with your purchase, you can of course return the product and get a full refund or exchange the product for another one for up to 30 days from the date you purchased it.
Any product you return must be in a re-saleable condition and in the original packaging if possible.
You will be responsible for paying all shipping costs for your item; unless the reason for the return is damaged goods within the 30 day returns period. Photographic evidence will be required in this instance.
Shipping costs are non-refundable. If you receive a refund, the cost of return shipping will be deducted from your refund.
Please contact us before returning an item within the 30 day period.
Please return to us at -
Reiju
Unit 5b
Jubilee Business Park
Appleby Magna
Swadlincote
DE12 7AJ
UK
For any queries, please email us at info@reiju.co.uk
The product has been added to cart.
Crossell