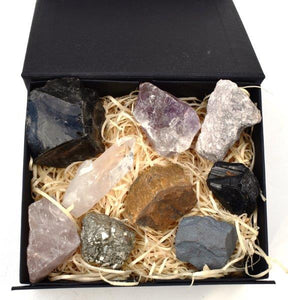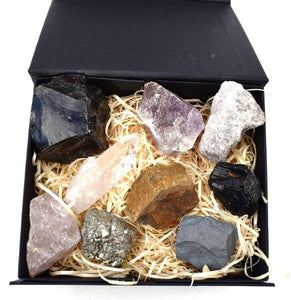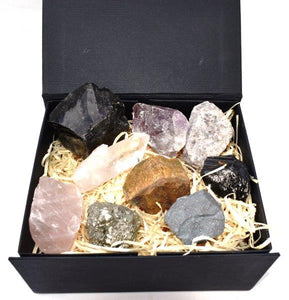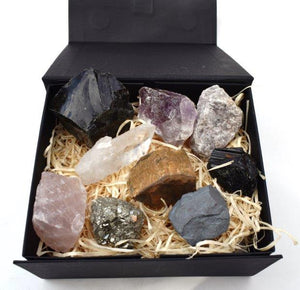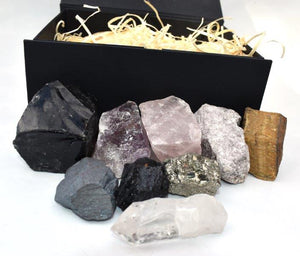 Natural Large Raw Crystal Stone 9 Piece Chunk Set Gift Boxed With Benefits Tags By Reiju.
 This set is worth over £120 sold separately and is our largest crystal gift box set to date.
This is a must have set for crystal lovers and features crystals that are great for protection, confidence and all round wellbeing.
Each box includes one of each of the following -
 x1 Black Obsidian raw crystal
x1 Clear Quartz Polished Point Crystal
X1 Rose Quartz raw crystal
X1 Amethyst raw crystal
x1 Black Tourmaline raw crystal
x1 Hematite raw crystal
X1 Lepidolite raw crystal
x1 Pyrite raw crystal
X1 Tigers Eye raw crystal
X1 Reiju gift box.
Each set will come with all relevent tags which explain the healing benefits of each crystal.

 We will also send this Reiki Charged as I am a qualified Reiki Practitioner.

Benefits of each Crystal:
 Amethyst - Is a violet crystal which helps develop your psychic abilities. It is known as one of the master healers.
Black Obsidian - A strongly protective stone, Black Obsidian forms a shield against negativity. It absorbs negative energies from the environment and provides deep soul healing. Black Obsidian works extremely fast and with great power to locate the cause of disease and removes disorders from the body.
 Clear Quartz - Clear Quartz is known as the 'Master Healer' and can be programmed and used for any condition. It is a perfect crystal for meditation and strengthening spiritual awareness and is an extremely powerful healing tool and energy amplifier. Clear Quartz harmonises all seven chakras and balances, aligns and cleanses the aura.
Black Tourmaline - Black Tourmaline is the most effective blocker of curses, psychic attack and ill-wishing. It protects against mobile phone emanations, electromagnetic disturbances, radiation and negative energies of all kinds.  Placed around the house or open space, Black Tourmaline offers protection on all levels.
Rose Quartz - Rose Quartz is a stone of unconditional love and infinite peace, it is the most important crystal for healing the heart and the heart chakra. The beautiful stone promotes receptivity to beauty of all kinds. Romantic Rose Quartz attracts love. Placed by your bed or in the relationship corner of your home, it draws love towards you or supports an existing partnership, restoring trust and harmony.
Hematite - This stone enhances personal magnetism, optimism, will and courage. Hematite also strengthens physical and etheric bodies, dissolves negativity and protects the aura, and acts as a fantastic grounding tool. This stone is particularly beneficial for joint pain, bone problems, blood conditions, anaemia, OCD, anxiety, leg cramps and insomnia. This stone counteracts electromagnetic energies and is a useful stone to place by a computer.
Tigers Eye - Tigers Eye is a brown-banded quartz that has a very powerful vibration that draws spiritual energies to Earth, and is said to hold the sun's energies inside of it. A fantastic grounding stone, this also helps low self-esteem and blocked creativity. This crystal assists in attaining goals and focusing the mind, building endurance and patience, ultimately enhancing your personal power.
Pyrite - Known as Fools Gold, Pyrite comes from the Greek for "Firestone" because it was believed that Pyrite, a sparkling stone, held fire in it's core. An excellent energy shield, Pyrite blocks out negative energy and pollutants at all levels, preventing energy leaks from the physical body and Aura, protecting subtle and physical bodies, and deflecting harm.  This stone creates a positive outlook. 
Lepidolite - A stone of transition, Lepidolite is an excellent crystal for dissipating negativity and inducing calm. Containing Lithium, this is beneficial for disorders such as addictions, eating disorders, bipolar disorder, depression, stress, nightmares and obsessive thoughts, encouraging independence and achievement of goals.


Please note that all of these crystals are 100% natural and they are formed over millions of years ago, therefore they may have some natural imperfections. 
 Please be aware that Reiki and Crystal Healing involve a method of energy balancing for the purpose of pain management, stress reduction and relaxation etc. These treatments are not intended as a substitute for medical or psychological care. Crystals are powerful and should be treated with respect. Please also be aware that Reiki Practitioners or Crystal Healing Therapists do not diagnose conditions, nor interfere with the treatment of a licenced medical professional. It is recommended that you seek a licensed healthcare professional fo any physical or psychological ailment you may have. Healing & other properties associated with crystals are given for information only.
Content and images are copyright protected. All rights reserved. Reiju is a registered trademark.
Contact us (Customer Service, Enquiries etc) -
The best way to contact us is via the contact form below; we will endeavour to reply as soon as we can Mon - Fri 9am - 6pm.
Shipping
All deliveries within the UK are Free of charge for orders over £25
and only £2.49 below this!

If you want to check the shipping cost before purchasing from us, just contact us here - contact us

We also offer a 24 tracked option and a next day special delivery service* at extra cost if required.
For European customers Only - We are not currently registered for IOSS so please be aware that there may be a customs charge to pay to get your item.
| | | |
| --- | --- | --- |
|  UK | Shipping Fee | |
| Royal Mail 48 Standard | £2.95 | Free Over £25 |
| Royal Mail 24 Class Tracked | £5.95 | |
| Royal Mail Special Next Working Day Delivery Before 1pm Next Day * | £10.95 | |
*Special Delivery- Order to be placed before 2pm. Orders placed after 2pm on a Friday will be shipped on the Monday - exc bank holidays
| | | |
| --- | --- | --- |
| Europe | Shipping Fee | |
| Royal Airmail Tracked | £15.95 | Free Over £120 |
| | | |
| --- | --- | --- |
| USA & Canada  | Shipping Fee | |
| Royal Airmail Tracked | £24.95 | Free Over £120 |
| | | |
| --- | --- | --- |
| Australia & New Zealand | Shipping Fee | |
| Royal Airmail Tracked | £24.95 | Free Over £120 |
| | | |
| --- | --- | --- |
| Other Worldwide | Shipping Fee | |
| Royal Airmail Tracked | £24.95 | Free Over £120 |
All parcels sent International Tracked Service. Tracking number will be provided.

(Please note that you, as the buyer, are fully responsible for any customs duty taxes that are payable/due in your country. Obviously with the Covid pandemic & brexit, there may be delays with goods getting through some countries customs.)
Returns & Refunds
We here at Reiju like to be fair and open with our customers, so if you are not 100% satisfied with your purchase, you can of course return the product and get a full refund or exchange the product for another one for up to 30 days from the date you purchased it.
Any product you return must be in a re-saleable condition and in the original packaging if possible.
You will be responsible for paying all shipping costs for your item; unless the reason for the return is damaged goods within the 30 day returns period. Photographic evidence will be required in this instance.
Shipping costs are non-refundable. If you receive a refund, the cost of return shipping will be deducted from your refund.
Please contact us before returning an item within the 30 day period.
Please return to us at -
Reiju
Unit 5b
Jubilee Business Park
Appleby Magna
Swadlincote
DE12 7AJ
UK
For any queries, please email us at info@reiju.co.uk
The product has been added to cart.
Crossell